Overview
MSI Gaming All-in-one PC 24GE 2QE-014US
GO ALL OUT
A new breed of gaming has been unleashed. MSI has built an All-in-One GAMING PC packing all the power, performance, and features that redefine what it means to be considered an All-in-One.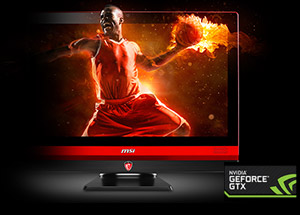 PERFORMANCE IN A PACKAGE


Experience desktop-class gaming with the next-generation NVIDIA® GTX™ 960M GPU. The GeForce GTX™ 960M GPU brings smooth, high-definition PC gaming performance, driving impressive 1080p gameplay at high settings in sleek new designs.
Close collaboration with a wide variety of developers under the GameWorks Program incorporate techs such as PhysX, HBAO+, and VXGI into popular titles such as Dying Light, Witcher 3 and Shadows of Mordor for more realistic, cinematic gaming.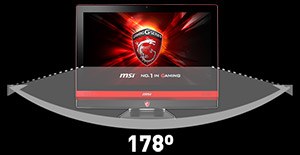 EYE CANDY
With an super-wide viewing angle of 178°, the display offers decadent full HD graphics for your eyes to feast on even at extreme angles.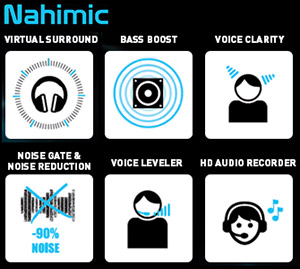 NAHIMIC AUDIO ENHANCER
Known for cutting-edge innovation in audio, Nahimic sound technology is renowned for its quality by the military and aeronautics industry. Now, we're making some serious noise by bringing this technology into the world of gaming. Nahimic is all about user experience right at the heart of their software, offering the best in audio technology.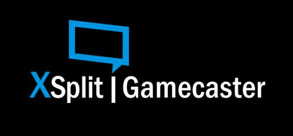 SHOW OFF YOUR SKILLS TO THE WORLD
XSplit Gamecaster lets you easily stream or record your gaming moments and broadcast your live gameplay sessions to Twitch, YouTube, UStream and more. It's simple, easy to use and perfect for sharing epic moments with friends, family or the world.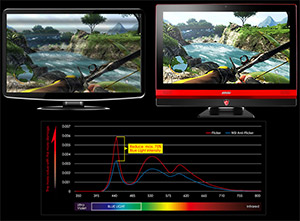 ANTI-FLICKER WITH LESS BLUE LIGHT


The Anti-Flicker technology integrated into the GAMING All-in-One display stabilizes the power current and prevents flickering invisible to the naked eye under normal conditions. The Anti-Flicker display also effectively reduces blue light, wavelengths that can be dangerous to the human eye, reducing eyestrain and improving productivity when used for extended periods of time.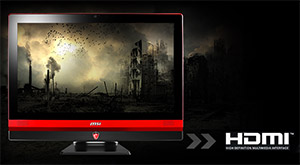 ULTIMATE MULTIMEDIA CENTER


With MSI's Instant Display Technology, you can easily connect external devices such as a DVD/Blu-Ray player or game console to the All-in-One GAMING PC. The monitor will be turned on automatically when starting up a device connected to the HDMI-in port, turning the it into a powerful multi-platform engine for watching HD movies or playing next-gen console games.


MILITARY CLASS 4 COMPONENTS


The AG270 is equipped with highly-stable and high-quality military-grade parts and components with SFC, Dark CAP capacitors, and Hi-c Cap, which provide excellent stability, power efficiency, and performance. These three key components have passed U.S. Military Standard MIL-STD-810G certification and provide extra protection to ensure the system's stable operation.

specification
Brand MSI
Model 24GE 2QE-014US

Quick Info
Type All-in-One PC
Form Factor All-in-One
Usage Consumer
Processor Intel Core i7-4720HQ 2.6 GHz
Processor Main Features 64 bit Quad-Core Processor
Cache Per Processor 6 MB L3 Cache
Memory 16 GB
Storage 1 TB 7200 RPM
Optical Drive Blu-Ray Writer
Graphics NVIDIA Geforce GTX 960M 2 GB GDDR5
Monitor 23.6"
Operating System Windows 8.1

CPU
CPU Type Intel Core i7
CPU Speed 4720HQ (2.60 GHz)
L3 Cache Per CPU 6 MB
CPU Main Features 64 bit Quad-Core Processor

Graphics
GPU/VGA Type NVIDIA GeForce GTX 960M 2 GB

Memory
Memory Capacity 16 GB DDR3
Memory Spec 8 GB x 2

Hard Drive
HDD 1 TB
HDD RPM 7200rpm

Optical Drive
Optical Drive Type Blu-ray Burner

Display
Screen Size 23.6"
Screen Resolution 1920 x 1080
Touchscreen Yes
Screen Type Multi-Touch Screen

Communications
WLAN 802.11ac Wireless LAN
Product specifications
Manufacturer
MSI
MPN
Gaming 24GE 2QE-014US
Video
No
Questions & Answers
Innovative wireless technology automatically transfers data to your computer when the Forerunner is in range. No cables, no hookups High-sensitivity GPS receiver provides improved tracking under trees and near tall buildings
Sleek design features a touch bezel that lets you quickly scroll and select features on the run Forerunner 405 continuously monitors your time, distance, pace, calories and heart rate (when paired with heart rate monitor) Digital interface
MSI All-in-One PC Gaming Desktop Intel Core i7 4720HQ 16GB DDR3 2.60GHz 1TB HDD 23.6" Touchscreen Color black/Red Model Gaming 24GE 2QE-014US